Due to some unforseen mishap, my halloweening will be
strapped
for time!!!
Butt---but, wait! Don't forget to fly in tomorrow. I'm gonna have a big
Halloween Bash of photos
! Stop by again in the morning -- 20+ photos I've taken...hang on to your broomsticks!!
Be witched, bothered and be wildered!!
Now...I'm flying a test pattern to see just what route I'm gonna take tomorrow.
And while over at
Carmen's
today, I found a quiz for Halloween. --So, naturally being who I am, I tried: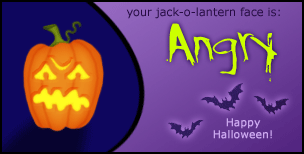 discover your jack-o-lantern face @ quiz me
...Later my bewitching friends!!
COMMENT - READ COMMENTS

Visitor List:
Chi * Carmen * Gattina * LibertyBelle * Tammy * Sue * It's a FLIP-FLOP World * Melli * It's a FLIP-FLOP World * Gabrielle * Mrs Lifecruiser *